Books by Elizabeth Stewart Clark
Elizabeth has a goal of helping others fall in love with the people of the past, and is delighted to share resources to help you do the same.
The Dressmaker's Guide to Fit & Fashion,
2nd Edition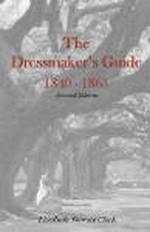 With sections on historic research and impression development, a stitch and technique primer, and projects to dress a 19th century woman from the skin out (including corsets!), this single volume is far more than a sewing book.
Whether you prefer draping patterns, drafting from measurements, or flat-pattern manipulation (or want to learn about all of them), The Dressmaker's Guide walks you through with detailed instructions and illustrations.
 It even comes with the author's email address, and free "tech support" for your wardrobe projects.
$35 post-paid from The Sewing Academy; inquire for wholesale discount information.