Books by Anna Worden Bauersmith
Author, researcher, milliner, dressmaker… Anna wears many hats very tastefully, and her books can help you do the same.
Fanciful Utility:
Victorian Sewing Cases & Needle Books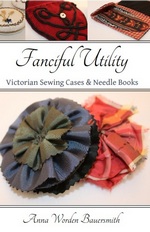 With templates and instructions for more than 68 projects and variations, you'll find you turn to Fanciful Utility again and again.
These delightful sewing accessories can be made as fully-historic reproductions, or use the stitch and technique primer to aid in your own very modern adaptation.
$35 post-paid from The Sewing Academy; this title is not currently available for wholesale discount.
And currently on the design board for publication late 2013:
Paisley, Plaid, & Purled
Shawls are an indispensible part of a functional wardrobe in the 19th century, and after you see the projects in this volume, we think you'll agree that they're quite indispensible in historic pursuits or modern life!
Subscribe to site updates for notice of pre-publication book reservations!